Family Dentistry in Lake County, Illinois
At our dental practice, we offer a range of dental services, including dental crowns, dental implants, and Invisalign®. North Chicago suburbs residents can easily reach our dental office conveniently located in Mundelein, Lake County. Our most requested general & restorative dentistry services are listed below. For answers to your dentistry questions, contact our cosmetic dentistry practice today!
Invisalign®
If you desire straighter teeth but dislike the idea of having to live with the "metal mouth" effect of traditional braces, talk to us about Invisalign®. Available at our dental practice in Lake County, Invisalign® is a revolutionary new way to straighten teeth in approximately one year or less, much less than conventional braces. If you're interested in Invisalign®, our Mundelein, Illinois, cosmetic dentist will evaluate your teeth and determine if you are a candidate.
The Invisalign® Process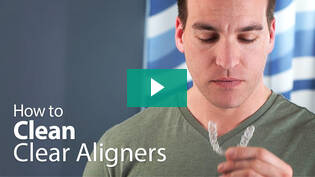 Invisalign® works by using a series of aligners. Because the aligners are made of clear plastic, with Invisalign® your North Chicago suburbs neighbors will barely notice you're wearing a state-of-the-art dental appliance. Although easily removed, Invisalign® aligners are worn 24 hours a day, seven days a week, except when eating, drinking, brushing and flossing. Each individual Invisalign® aligner is worn for approximately two to three weeks during which time your teeth gradually adjust to a position ready for the next aligner. Usually you are seen in the Mundelein, Lake County office every six to eight weeks for Dr. Roessler to monitor your progress. If you are seeking Invisalign® treatment and live in the North Chicago suburbs, contact us today! Our staff will be happy to provide you with additional information. back to top
Dental Implants
Dental implants are used to replace missing teeth in your smile. Unfortunately, accidents and illness happen and sometimes they can take a toll on your teeth. Injury and disease often result in tooth loss or weaken a tooth to the point where it needs to be removed. If missing teeth have made you less inclined to smile, dental implants may correct the problem. The placement of dental implants involves a combination of oral surgery and restorative dentistry. Dr. Roessler has many oral surgeons and periodontists he works with to place the dental implants and then Dr. Roessler will restore the implant with the appropriate restoration performed at our Mundelein, Lake County dental office with just a few visits!
The Dental Implant Procedure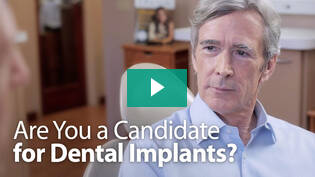 Before your dental implants procedure begins, our Lake County, Illinois, team of dental specialists will coordinate a plan of dental care that best meets your needs. The first step of the dental implants procedure is to create an anchor for your new tooth. An oral surgeon or periodontist will place a titanium anchor into the bone where the missing tooth used to be. Your bone will heal around this titanium anchor and secure it into place in your jaw. After your jaw has healed, Dr. Roessler will attach a part to this anchor and then a crown will be cemented over this part to resemble the missing tooth. We create your dental implants at our Mundelein, Illinois, dental office to match your natural teeth in shape and color. Your dental implants will blend with your existing teeth and create an attractive smile. The result of dental implants is more than just esthetic. Because your dental implants are anchored securely into your jawbone, they feel and function as though they were your own natural teeth.
Dental Implants Results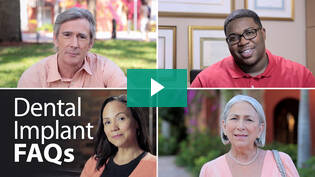 The dental implants used at our practice are strong and natural looking substitutions for missing teeth. Dental implants replace not only the tooth itself, but also the tooth root. Success rates are as high as 99 percent with dental implants, which can last a lifetime with proper care. We offer expertly crafted dental implants in our Mundelein, Illinois, dental office. For more information on dental implants in the North Chicago suburbs of Lake County, contact Dr. Michael Roessler. back to top
Dentures
If some or all of your teeth are missing, talk to us about our full and partial dentures. Dentures are more than just esthetic. Dentures can improve the shape of your face by supporting surrounding muscles and tissue. Partial dentures can prevent remaining teeth from shifting and moving. Dentures can improve chewing and speaking. We craft your dentures so they closely resemble your natural teeth. Your dentures are removable so they can be cleaned very easily. The result of dentures is an attractive, natural-looking smile. back to top
Fixed Dental Bridge
If you have missing teeth, contact our Lake County dental office for information on a fixed dental bridge. A fixed bridge replaces one or more missing natural teeth. It is cemented into place, firmly attached to the prepared natural teeth that are next to it. The fixed bridge can be made of porcelain fused to precious metal or all porcelain without any metal. The bridges feel just like your natural teeth. A fixed dental bridge can restore your teeth to normal function. The fixed dental bridge will improve the entire health of your mouth by keeping the surrounding teeth in position, preventing any shifting that may occur of the tooth or defects that were not replaced. A fixed dental bridge can also help maintain the structure of your face and jaw. If you're interested in learning more about how you can replace missing teeth with a fixed bridge, or with dentures or dental implants, contact our Mundelein, Illinois, dental practice in the North Chicago suburbs of Lake County. back to top
Dental Crowns
A dental crown is a restoration that covers or caps a tooth to restore the normal size and shape of the tooth. Following treatment, a crown gives strength to a tooth and protects it from fracture. When a crown is necessary, our Mundelein, Illinois, dental practice now has the ability to fabricate an all-porcelain crown for both the front or back of the mouth. The advantage of all porcelain crowns is that they provide the most beautiful, natural esthetics available. Because there is no metal in these crowns, they have a very natural, life-like appearance. To learn more about dental crowns, read our blogs and other pages: Dental Crowns Overview, Benefits of Dental Crowns. back to top
Composite and Porcelain Inlays and Onlays
Composite and porcelain onlays and inlays can help restore teeth that are mildly or moderately damaged by decay or wear. Inlays made of composite resin or porcelain are used when just the chewing surface of the tooth or in between the teeth needs repair. Onlays, also referred to as partial crowns, are used when more coverage is required. Inlays and onlays are used to fill cavities, replace old metal fillings, and restore cracked or fractured teeth. Porcelain and composite resin inlays and onlays offer many advantages over traditional fillings. They are very durable and last for many years and the porcelain or resin material can be matched to the natural color of the teeth so they're virtually undetectable. back to top
Tooth-colored Fillings
If you're unhappy with your smile because you have unattractive traditional silver-colored fillings, our tooth matching fillings can help you. Dr. Roessler will expertly match the color of your new filling to the color of your natural teeth. The result is a filling that is virtually undetectable to the eye.
Silver Fillings
Many people in the North Chicago suburbs have had silver fillings placed into their teeth because they had cavities. These silver fillings are called amalgams. Amalgam fills the space where the decay in the tooth has been removed. However over time, the amalgam corrodes and leaks which blackens the silver, and many times the tooth. This is easily seen as soon as a patient opens his or her mouth and is usually a source of embarrassment for the patient.
Composite Fillings
At our dental office in Mundelein, Illinois, composite fillings are made of a porcelain-like material that actually bonds to the tooth for a tight seal. They are strong and stain-resistant, and they are color-matched to the natural tooth, making them virtually "invisible". Composite fillings also lack the sensitivity that is often associated with silver amalgam fillings because they are bonded to the tooth. They are especially suited for smaller cavities and for patients who may be allergic to metal fillings.
Replace Your Old Metal Fillings
If you choose to have your silver fillings replaced with tooth matching fillings, we use what is called a "raincoat" during the procedure. This raincoat ensures that you will not swallow any of the silver fillings as they are removed from your teeth. It also protects your cheek and tongue from injury during the procedure. If you're interested in learning more about tooth matching fillings, contact our Lake County dental practice conveniently located in Mundelein, Illinois, today. back to top
Temporomandibular Dysfunction (TMD)
Many Lake County residents suffer from TMD without knowing they have a treatable condition. The temporomandibular joint controls the movement of the lower jaw. It is very mobile, which is why your jaw can move up and down and from side to side. Temporomandibular Dysfunction (or TMD) is the name for the affliction that results when the temporomandibular joint malfunctions.
TMD Symptoms
The exact reasons why TMD occurs are not certain, but the symptoms of TMD are very recognizable. If these symptoms describe your experiences, our dental practice in the North Chicago suburbs of Lake County can help you. Quite often symptoms appear in the jaw itself. Your jaw may make a clicking or popping noise when eating or talking. You may have pain or difficulty opening and closing your mouth when yawning, or your jaw may lock or stick in a certain position. TMD can negatively affect your teeth. If you have teeth pain that seems to travel from tooth to tooth, or cracked or worn down teeth, you may be clenching or grinding your teeth without being aware of it. TMD can cause headaches and affect the muscles of your head and upper body. If you're frequently experiencing unexplainable migraines or headaches, pain or pressure in the forehead, temples, sinuses, face or behind the eyes, pain, stiffness, or muscle spasms in the neck, shoulders, or back, you may be suffering from TMD. If you feel you may have TMD, please contact Dr. Roessler's Mundelein, Illinois, dental practice in the North Chicago suburbs of Lake County for help. Left untreated, TMD can lead to irreversible bodily damage such as tooth loss, jaw deformities, and chronic pain. back to top
Halitosis and Non-Surgical Gum Care
Even though it's estimated that more than 90 million people experience persistent halitosis (more commonly known as bad breath), this condition remains very embarrassing. Lake County residents can get relief from chronic halitosis by visiting our dental office in Mundelein, Illinois.
Causes of Halitosis
Halitosis is usually caused by bad oral hygiene, but not always. Poorly positioned or misaligned teeth can cause food to accumulate between these teeth and the resulting bacteria in these areas can build and lead to chronic halitosis. If crooked teeth are the cause of your chronic halitosis, you may benefit from teeth straightening procedures such as invisalign®. We can determine the cause of your chronic halitosis and provide you with solutions to help remedy the problem. Periodontal disease is a chronic infection of the gums and bones that hold your teeth in place. It also causes halitosis. It is common, affecting approximately 50 million Americans. Gum disease treatments have taken a lot of strides within the past 10 years, and we are pleased to bring these advancements to the North Chicago suburbs of Lake County. New local antibiotic therapy can be applied directly to your gums right after a thorough deep cleaning to ensure that all the bacteria are eradicated.
Halitosis Treatment
We want to help solve your halitosis problems. If poor oral hygiene is determined to be the cause, we can teach you how to brush and floss your teeth properly. If misaligned teeth are causing your chronic halitosis, we'll discuss ways to straighten them such as braces or invisalign®. In the North Chicago suburbs of Lake County, we treat halitosis. Contact us for treatment! back to top
Snoring and Sleep Apnea
Do you wake yourself or someone else with your snoring? Studies show that about 40 percent of middle-aged men and nearly 30 percent of middle-aged women snore. That's a lot of people not getting a good night's sleep! Snoring can be more than just a nuisance. Connections have been made between snoring and potentially fatal obstructive sleep apnea (OSA). OSA and snoring have also been linked to other diseases, such as hypertension and cardiovascular disease. One of the causes of OSA and snoring is your tongue. When you sleep, your tongue can reposition itself blocking your airway. If you snore excessively or suspect you have sleep apnea, please contact Dr. Roessler at his Mundelein, Illinois, dental office in Lake County. back to top
Preventative Dentistry and Regular Cleanings
Brushing at least twice a day and flossing daily are important routines in maintaining healthy teeth and gums, but they are no substitute for twice yearly professional cleanings and routine examinations by a licensed dental professional such as Dr. Michael Roessler. Professional cleanings and examinations are important for many reasons, but the most important is that they allow us to catch dental problems, diseases and infections in their early stages. Identifying tooth and gum disease early means we can treat them before they advance into more painful stages and possibly lead to tooth loss. Professional cleanings and examinations also allow us to advise you on how to remedy dental problems. For example, you may have misaligned teeth that constantly trap food and harbor disease-causing bacteria and Dr. Roessler may suggest a permanent remedy such as straightening your teeth with braces or Invisalign®. Serving patients throughout the North Chicago suburbs, let our Mundelein, Illinois, dental staff help you keep your teeth and gums healthy for a lifetime. Learn more about sleep apnea by reading our blog: The benefits of sleep apnea. back to top
Children's Dentistry
Regular visits to our office in Mundelein, Illinois can help ensure your child's mouth remains healthy and free from painful disease and infection and establish a lifetime of good dental habits. We can recommend sealants to protect your child's teeth from decay. We can fit your child for mouth guards to lessen the chance of tooth trauma while playing sports. As your child grows, we can recommend orthodontic solutions such as Invisalign® to straighten teeth. For any unanswered questions you might have, read our FAQs.
Contact Our Mundelein, Lake County Practice
For more information about the general and restorative dentistry services we offer, including the placement of dental implants and Invisalign® treatment, contact our Lake County dental practice, serving the North Chicago suburbs, in Mundelein, Illinois. back to top.
To learn more about Invisalign, read our blogs:
---